// Presented as part of July's Ecologies Series //
Kirsten Tan / 2016, Guanajuato, Netia Off Camera International Festival of Independent Cinema, Palm Springs, QCinema International Film Festival, Rotterdam, Sundance, Sydney, Taipei, Zagreb, Zurich / 104'
Thana is a middle-aged architect living in Bangkok. While professionally successful, he is unhappy with his life. After encountering an elephant one night while wandering the city, Thana decides to embark toward Isan, his childhood home in Thailand's idyllic north. He brings Pop Aye, the elephant, with him on a journey that intersects with various characters and culminates in a form of companionship both deep and unexpected.
Shot largely with non-professional actors and gesturing toward realms of perception beyond the human, Pop Aye portrays in endearing detail the bond between a man and an elephant. Singaporean filmmaker Kirsten Tan's first feature premiered at Sundance, where it won the Screenwriting Award for World Cinema - Dramatic; Rotterdam, where it won the Big Screen Award; Nettia Off Camera, where it won the FIPRESCI Prize; and Zurich, where it won Best International Feature Film.
Pop Aye: A Masterful Symphony of Subdued Emotions and a Cry for the Right to the City
In an exclusive essay for Filmatique, Dr. Maurizio Marinelli explores the dynamics of urban exploitation and the possibility of renewal in contemporary Thailand, seen through Kirsten Tan's debut feature Pop Aye.
"An offbeat road movie across Thailand with a touch of the surreal, featuring a bromance between an over-the-hill architect and his long-lost elephant"
"An assured and noteworthy feature debut… The full extent of Thana's connection to the elephant, revealed late in the film, turns his expedition into one of repentance, and takes this tale of middle-aged angst to unexpected depths"
- Sheri Linden, Sundance Review, The Hollywood Reporter
"A man, an elephant, and a charming love story… Kirsten Tan's feature debut is a trip worth taking… Elephants, with their imposing size and gentle nature, are among the most cinematic of all animals. Popeye is no exception: We first see him donning elaborate finery that attracts a small crowd of onlookers; a closer look reveals freckle-like light spots on his trunk. Whatever look Thana gives him seems to be reflected back at the man"
- Michael Nordine, Film Review, Indiewire
"The palpable bromance — if that's even the right word for this interspecies relationship — is visible in each trunk nuzzle. Thana never smiles as widely as he does when peering into Popeye's large, dark eyes"
- Christopher Kompanek, Film Review, The Washington Post
"Pop Aye himself, played by the elephant Bong, has such a magnificent charisma that Tan's film lights up whenever he's on screen. I don't mean to damn Pop Aye" with faint praise when I say that a silent elephant outshines most of his human co-stars, just that his mysterious, yet calming nature elevates [the film]"
- Vikram Murthi, Film Review, Roger Ebert
"As it winds north through rural Thailand, Pop Aye makes only a brief stop at a Buddhist site. But there's plenty of karma in writer-director Kirsten Tan's affecting low-key drama, beginning with its human protagonist's quest to repay what he owes his elephant companion"
"There's a wonderful moment in Pop Aye, when an elephant gives the camera — and you — the stink eye. Then again, maybe the elephant, called Pop Aye and played by a majestic giant named Bong, is just exhausted, namely with people… I wish there was more about Pop Aye, more attention, more close-ups. He's beautiful and heartbreaking, both because of what he adds to the story but also for all the extracinematic meaning he can't help but bring, all the pain, all the tears"
- Manohla Dargis, Film Review, The New York Times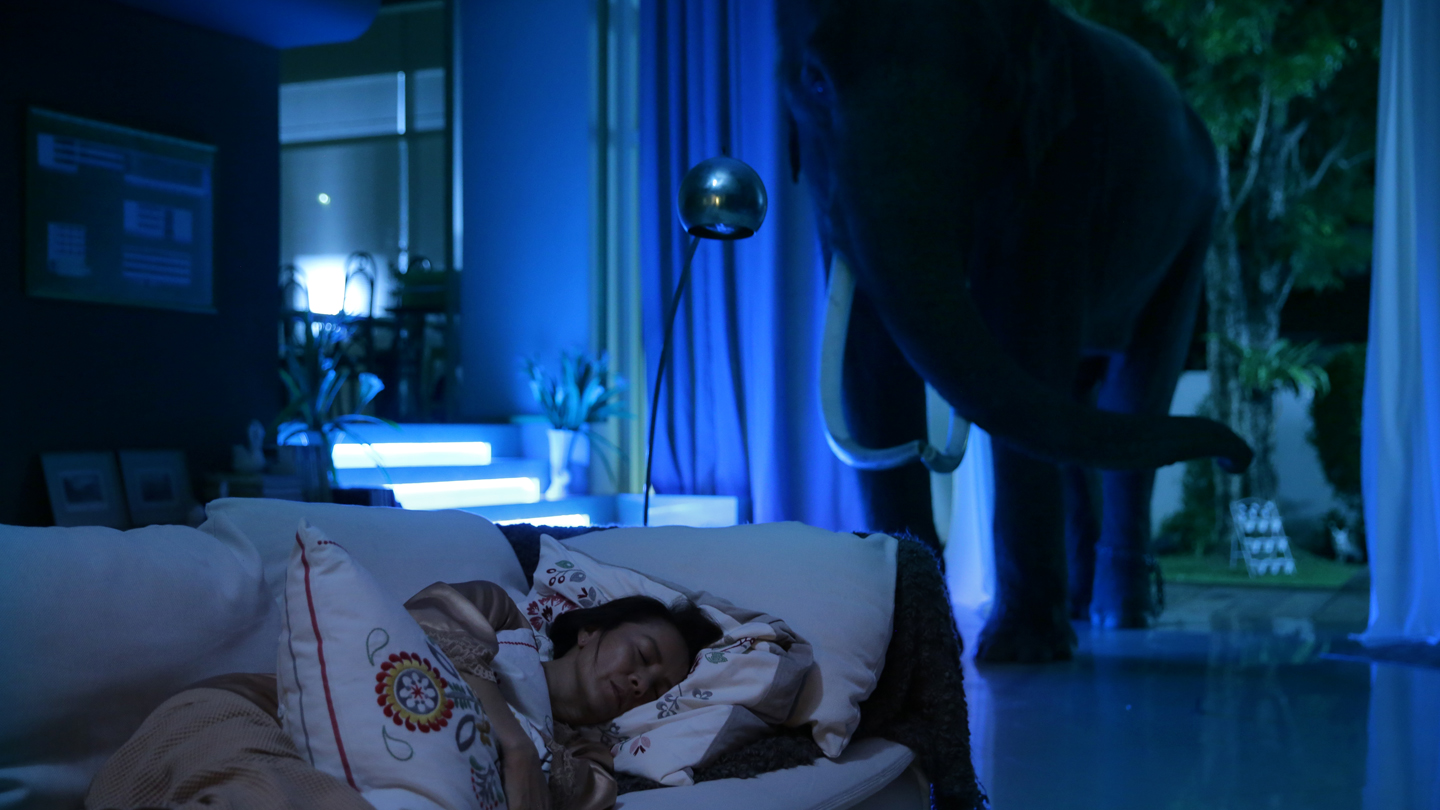 If not yet a member, subscribe now for a 30-day free trial. $4.95/month thereafter.