// Presented as part of October's Swiss Films Series //
Cyril Schäublin / 2017, Locarno, Adana, Bilbao, Black Canvas Mexico City, Das Filmfest Prag, Edinburgh, Kiev, New Directors / New Films, Lima, Mar del Plata, Montevideo, Murcia IBAFF, Rotterdam, San Francisco, São Paulo, Shanghai, Solothurner Filmtage, Split, Thessaloniki / 71'
Alice works in a call center in the outskirts of Zurich. She spends her days conversing with strangers, selling them deals on telecom and insurance packages. After work she meanders seamlessly through the city's parks and various security checkpoints; she also meets elderly women to collect envelopes filled with cash. In fact, Alice has been calling these lonely women posing as a granddaughter in urgent need of money, a scam that has quickly brought her a fortune. Two police detectives are alerted to the fraudulent scheme, and set off in search of the perpetrator in an anonymous city.
Stylish and wry in equal measure, Dene Wos Guet Geit (Those Who Are Fine) offers a sharp yet expansive view of contemporary existence by analyzing humanity's relationship with capital, technology and urban space. Cyril Schäublin's first film premiered at Rotterdam, Thessaloniki, New Directors / New Films, Mar del Plata, São Paulo and Shanghai; Uruguay International Film Festival, where it won a Special Mention for Best First Film; Edinburgh, where it won Best International Feature Film; Murcia IBAFF, where it won Best Feature; and Locarno, where it won a Special Mention for First Feature.
"[A] razor-sharp, formalist satire"
"[A] cool and elegant portrait of a society held captive by its own well-being… The director depicts the disturbing beauty of daily life given rhythm by hyper-control. Those Who Are Fine is a seductively cynical film"
- Muriel del Don, Locarno Review, Cineuropa
"Stylishly alienating… The Zurich depicted here seems devoid of air and light, a cold and dystopian society in which people go about their daily lives with robotic regularity. The modernistic architecture is similarly forbidding, providing a bleak environment that DP Silvan Hillman often shoots from high above to accentuate its large scale and lack of warmth. Policemen are shown stopping people to conduct random bag checks as a result of a bomb threat, but you get the feeling that it's simply a matter of routine. The dialogue more often than not consists of characters stiltedly exchanging details about bank accounts (how Swiss!), internet passwords, data plans and other technical minutiae. It's as if humanity had been rendered digital, reduced to a series of 0's and 1's. Even when people try to connect on a more intimate level, such as describing a film they've recently watched, they're unable to remember something as basic as its title"
"Through striking framing, intense angles, fragmented scenes, and amusing conversations that at first seem to be unrelated… Director Cyril Schäublin's bold and precisely assembled debut astutely captures a world where every character is either on or using a device and surveillance is everywhere but fails to protect"
- Festival Program, San Francisco International Film Festival
"Cyril Schäublin's lean, formally striking film about alienation touches on a confidence scheme in modern, unfriendly Zurich… There's something of the merciless, scathing formalism of Austrian provocateur Ulrich Seidl's docu-fictions here, but if anything, Schäublin works at an even further bloodless remove, and his aesthetic is very different: wilfully dour and off-balance. And yet for all the careful asymmetry and disquieting composition, there's exceptional precision to the mechanistic way the scenes fit together, like dully glinting cogs and brushed-steel gears. Perhaps that's the way the filmmakers' nationality most reveals itself in this impressively uncompromising debut— Those Who Are Fine… ticks through its brief 71 minutes with the implacable, impersonal, perfect engineering of a high-end Swiss watch"
"[A] delightful dry comedy"
"A whimsical tale of alienation and contiguity, or the organization of wealth and the dispersal of needs, that was developed through an unconventional crossing of fiction film and documentary methods"
- Festival Program, Thessaloniki International Film Festival
"[T]raining his gaze on characters outdoors from beyond-surveillance-camera distances, [Schäublin] contrasts the elderly and none-too-tech-savvy getting defrauded with civilians pulled aside by police checking bags in the wake of a bomb threat, a juxtaposition in which both individual participants and systems can repeatedly invade the security of, harass or otherwise mess with a too-complacent populace. The point, however, is well-taken and the film morbidly amusing: the hell we live in now, but more so, captured with impeccably discipline for the mundane"
"Zurich has never been seen from this angle before: Architecture and negative space often divide the screen geometrically and tell us more about the woman's emotional state than any dialogue could"
- Timo Posselt, Film Review, Indiewire
"Cyril Schäublin's intelligent debut feature is a finely paced reflection on the redistribution of wealth, bureaucracy, capitalism, trust and the impact of our ever-increasing dependence on technology"
- Festival Program, Edinburgh International Film Festival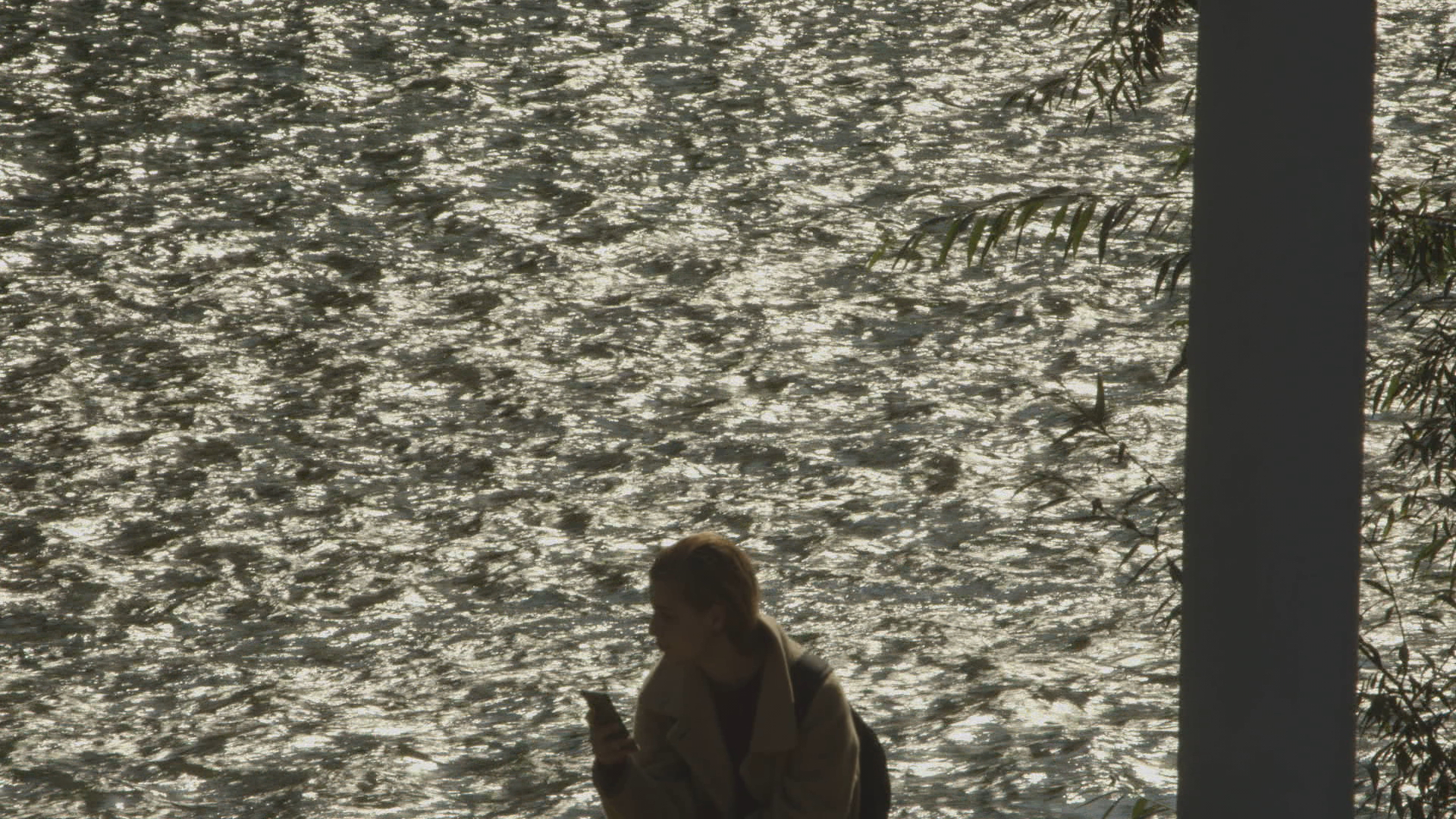 If not yet a member, subscribe now for a 30-day free trial. $4.95/month thereafter.