// Presented as part of July's American Indie Series //
Celia Rowlson-Hall / 2015, Venice, AFI Fest, Ashland, Denver, Indie Memphis, Jerusalem, Maryland, Melbourne, Milwaukee, Munich, Rotterdam, Sarasota, Sidewalk Film Fest, Sun Valley / 80'
A woman appears in the desert, dressed in a pink t-shirt and cowboy boots. She hitches a ride along a vast, abandoned road en route to Las Vegas. Suddenly in an urban wasteland, she moves across filthy motel rooms, swimming pools, the hood of an Oldsmobile. She encounters characters and landscapes at once terrifying and sublime. She is a body in motion.
A modern-day vision of Mother Mary's pilgrimage set against the scorched vista of the American Southwest, Ma deconstructs female corporeality and vis-à-vis a journey that is once visceral and surreal. Dancer-choreographer Celia Rowlson-Hall's feature film debut premiered at Venice's Giornate degli Autori, Rotterdam, Maryland, Munich, and Ashland and AFI Fest, where it won the Audience Award.
"Choreographer-cum-director Celia Rowlson-Hall brings the principles of modern dance to this vaguely religious allegory, resulting in one of the year's most original debuts"
"Part movie, part dance performance, part bizarre Nativity play, Ma is the kind of picture that rarely sees the outside— or even the main stage— of a film festival... Alternately sexy and silly, galvanic and gentle, Ma is best enjoyed as a slide show of visual blessings and, sometimes, bafflements. Whippet-thin and androgynous, this Virgin is a feral innocent, writhing across stony wilderness and motel carpeting like an ecstatic invertebrate. And Ms. Rowlson-Hall can really move: back-bending in slow motion or cavorting in men's underwear, her bruised and abused body seems often more in need of an exorcist than a midwife"
- Jeannette Catsoulis, Film Review, The New York Times
"[Q]uietly stirring... a modern-day retelling of the Virgin Mary's venture, only in this version there are no decrees, no dialogue. The language here— and it is nuanced and rich— is a composite of country-western tunes and crackling silences, evocative cinematography, and, above all, a style of physical expression drawn from the dance world. This is as pure a distillation of Rowlson-Hall's creative vision as you can get"
- Laura Regensdorf, Film Review, Vogue
"Celia Rowlson-Hall's feature film debut Ma doesn't fit into a neat category, or any category at all, for that matter. You could describe it as a meditation on the story of the Annunciation, told through dance and movement, although 'meditation' isn't quite right either. There's a song sung at the end of the film by a little girl, but other than that, Ma unfolds without dialogue. Everything is told through gesture, frame composition and dance. Eerie stillness is interspersed with sometimes mysterious gestures, like code-signals yet to be translated or prehistoric cave markings. What do they signify?... Rowlson-Hall has indulged herself in Ma, and has created a bold and unique film that has 'personal' written all over it. No one else could have made it. This should be celebrated"
- Sheila O'Malley, Film Review, Roger Ebert
"Rowlson-Hall inserts more welcome bits of absurdist business in later scenes where Ma finds herself back in the desert; there, an unnamed soldier tumbles down one of the dunes over and over again, as if turning an initial fall into a series of balletic dance moves. For that matter, Ma pays clear homage in several scenes to Woman in the Dunes, Hiroshi Teshigahara's great film that's also about a woman who's ensnared within a patriarchal system of tourism and bodily exchange. These moments register as sensible, truly unusual expressions of abstract pain made flesh"
- Clayton Dillard, Film Review, Slant Magazine
"Pregnancy and childbirth are intensely physical events. Despite their bodily primacy, these experiences are freighted with various significations, running the gamut from the woman-centered skill sets of midwifery to the all-too-frequent scaremongering and misinformation of anti-choice politics. This is not surprising since bodies have their semiotic dimension. Everything has meaning. However, the fact that these human events are unavoidably located on and in the female body— a body whose very generative capacity has historically made it an object of fear— seems to produce an excess of verbiage, a lot of it denigrating or punitive... Ma uses filmic space to explore the signifying power of bodies and the objects around them"
- Michael Sicinski, Film Review, Mubi Notebook
"Celia Rowlson-Hall's Ma is one of the most stunning, original feature debuts in recent American cinema... Tropes abound and are then distorted... The pilgrimage culminates in a birth scene of unpredictable grandiosity and lushness of design that belies the production's extremely modest budget. The sparing but powerful gong-laden score (by Brian McOmber, formerly of Dirty Projectors and a fellow to Rowlson-Hall on Filmmaker Magazine's 25 New Faces of Independent Film) further scaffolds the surreal anti-logic of the concept of a 'virtuous woman'"
- Program, Northwest Film Forum
"[T]he film's sheer creative ambition is invigorating"
- Mike D'Angelo, Film Review, AV Club
"The true strength of Ma, which premiered at Venice in 2015, has nothing to do with its vaguely outré 'take' on biblical legend, much less its talk-free format; rather, it's the images' particular synthesis of simplicity, sadness, and surreality that most distinguishes the movie. On a couple of occasions, the camera looks on as the protagonist, oriented toward the center of the frame, removes her oversize shirt rather gingerly, as if she were in the process of shedding another layer of skin. In a few more evocative shots, Ma has descended into the sky-blue basin of a drained swimming pool, where she clings to shallow-end steps that resemble nothing so much as a wedding cake. 'Who can find a virtuous woman?' asks the film's epigraph, half a verse from Proverbs that does, in fact, offer something of a roadmap for the movie to follow. Without resorting once to words, Rowlson-Hall develops a cinematic language well suited to exploring the concept of immaculacy— and how external demands for it can weary the body indeed"
- Benjamin Mercer, Film Review, Brooklyn Magazine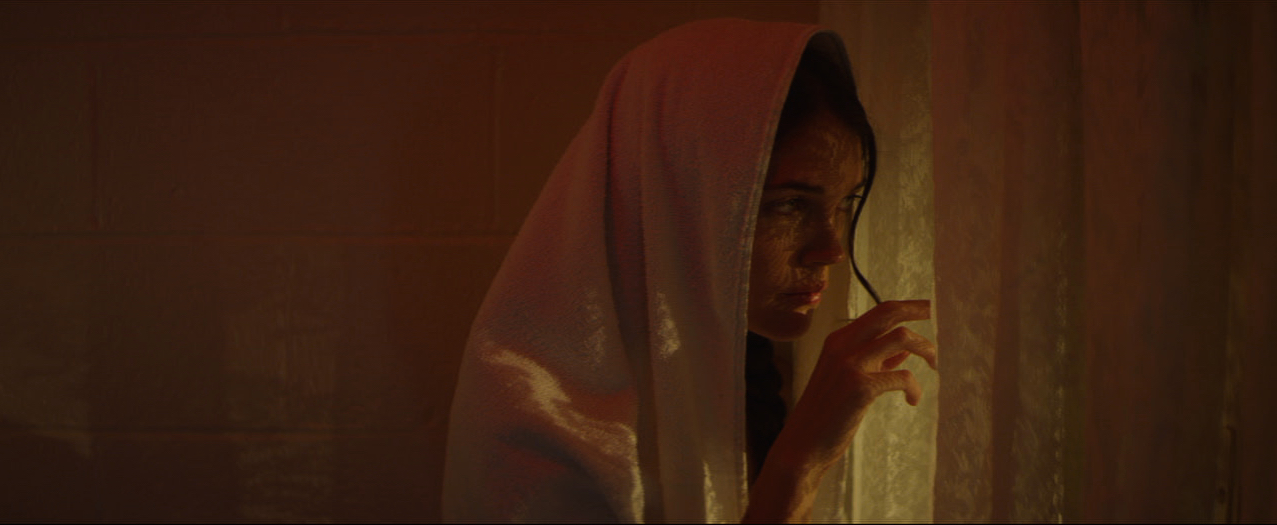 If not yet a member, subscribe now for a 30-day free trial. $4.95/month thereafter.