Andrew Berends / 2015, SXSW, Anchorage, Arizona DocsDF, Rhode Island, Sebastopol Documentary Film Festival, Telluride Mountain Film / 82'
Madina is an 11-year-old girl who has fled her native region in war-torn Sudan for a better life— food, water, and shelter of a refugee camp high in Sudan's Nuba Mountains. Madina dreams of receiving an education; when her mother dies Madina is forced to quit school and look after her young siblings. While rooted in the personal, Madina's perspective expands into a panorama of the little-seen war between Sudanese President Omar al-Bashir and the Sudan People's Liberation Army: a conflict that presumably ended in 2011, yet rages on today.
Andrew Berends' fifth film weaves together quotidian details with geopolitical commentary both vast and subtle, capturing one of the most pressing conflicts of our times through verité filmmaking. Madina's Dream premiered at SXSW, and won Best Documentary at both Anchorage and Rhode Island, and the Resistencia Award at the International Documentary Film Festival of Mexico City.
Press
"A potent look at civil war in Sudan, Madina's Dream provides eyewitness reportage of an ongoing, lesser-sung African regional/ethnic conflict. This latest documentary from Andrew Berends (Delta Boys, The Blood of My Brother) looks at refugee camps as well as life in the Nuba Mountains war zones where government forces are trying to annihilate rebel forces, as well as unfortunate locals caught in the crossfire"
- Dennis Harvey, SXSW Review, Variety
"Director Andrew Berends operates in one of the most venerable traditions of documentary, as the independent observer who makes his way to the front lines to bear witness. Berends' footage— divided between the Yida Refugee Camp in South Sudan and villages under siege in the Nuba— is nothing short of spectacular, thanks to a combination of what one can only assume is his personal courage and a deep sensitivity to his subjects. Berends taps into the universal by way of focusing on individuals and the harsh specifics of this particular conflict"
- Telluride Mountain Film Festival, Press Notes
"An unflinching and poetic glimpse into a forgotten war, Madina's Dream tells the story of rebels and refugees fighting to survive in Sudan's Nuba Mountains. After decades of civil war, South Sudan achieved its independence from Sudan in 2011. But inside Sudan, the conflict continues. Sudan's government employs aerial bombings and starvation warfare against the inhabitants of the Nuba Mountains. Hundreds of thousands of civilians have fled to refugee camps in South Sudan or remain trapped in the war zone. Eleven-year-­old Madina and countless others dream of a brighter future for the Nuban people"
- Arizona International Film Festival, Press Notes
"Berends' film follows the inhabitants of the Nuba Mountains, who are under a constant barrage of attacks from the Sudanese government (the instruments of war are so commonplace, that the children even mold toy models of RPGs and machine gun-mounted tanks out of clay). This unflinching look at a war-torn group of people focuses on Madina and her fervent dream to return home— if only a pair of ruby slippers could do some magic here"
"This hard-hitting inside look at the ongoing conflict in South Sudan presents a close-up view of everyday wartime life in the Nuba Mountains. The film is shot both in the refugee camp where women and their starving children, such as Madina, have fled, and village life under a siege in which Nuba men are daily forced to defend themselves against attacks from Sudanese troops. Their personal stories, told alongside skirmishes and bombings, create a riveting commentary of the effects of war on civilians"
- Sebastopol Documentary Film Festival, Press Notes
"Beautiful wide shots of the territory slowly unfold a story of the people living inside the war in Sudan's Nuba Mountains. Those who survived the trip to the Yida refugee camp of South Sudan walked for days with no food or water, fleeing the starvation warfare and frequent air-raid bombings conducted by their government, intended to scorch land and eradicate life. Traumatized civilians and a weary, hodgepodge rebel army— Sudan Peoples' Liberation Movement (SPLM)— have been strategically pitted against family and neighbors, many having joined Omar Bashir's troops in desperation... An inherently crushing subject, this humanitarian crisis, magnified even since this filming, is presented with such care and curiosity that, although heart-wrenching, Madina's Dream isn't depressing. The film is lovely, actually. Andrew Berends' unprecedented access to both rebel fighters and civilians (the opposition is not filmed) combines with his sharp eye for contrast, resulting in a powerful cinematic poem. Berends and his team interweave well-placed music, interviews, action, and palpable emotion with brilliant footage of yin-and-yang details— mortar shell explosions and tree leaves, foxholes and babies— to share a narrative of real life that is both horrific and remarkably inspiring"
- Jessi Cape, SXSW Review, The Austin Chronicle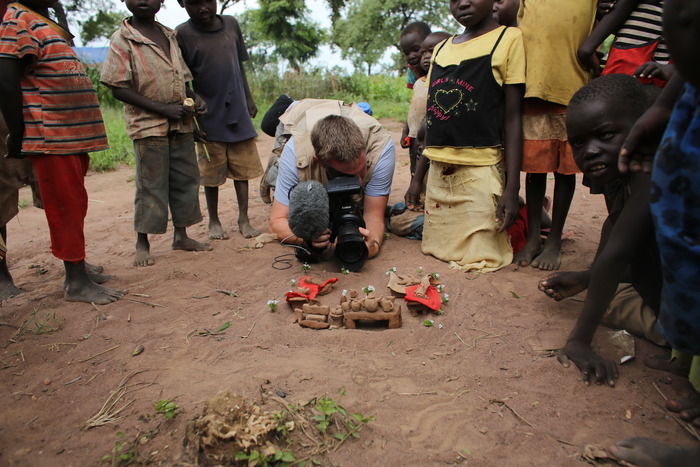 If not yet a member, subscribe now for a 30-day free trial. $4.95/month thereafter.